McNally Strum Stick The G Strumstick with Rosette Soundhole® G-29RMS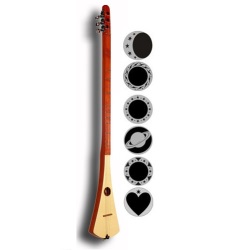 Features:
Model G 29R
G Strumstick design with decorative inlaid rosette in the soundhole. Tunable down as low as C or up to A. Useable keys are C, C##, D, D##, E, F, F##, G, G##, and A. McNally also offers a Strumstick pitched in D: The Grand Strumstick.
The G (Standard) is 29-1/2" long by 4" wide by 1" deep. The body and neck are Padouk (a rich red hardwood from Africa), the soundboard is Spruce, and the back is Maple. The tuning is G-D-G. The lower G is the same note as the guitar third string. The strings are loop end (banjo or mandolin type): gauges .023 wound, .014 plain steel, and .010 plain steel. The frets are intelligently placed to give a diatonic scale (like a harmonica), with an additional flatted seventh. 2-1/2 octave range.
The Strumstick has it's own unique sound: bright, clear, and snappy! Click
here
for sound samples.
Includes Free instruction book and CD.
Available with Built-In Pickup!
Optional Rosettes:
Moon & Stars
Stars & Dots
Stars & Triangles
Lightning
Saturn
Heart with Star
Optional Original Strumstick Case
| | |
| --- | --- |
| Model: | G-29RMS |
| Manufacturer: | McNally Strum Stick |