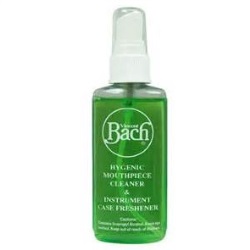 Bach Hygenic Mouthpiece Spray Cleaner and Case Freshener 1800B
Manufacturer Part #:
  1800B
Make your mouthpiece and case smell minty fresh! From Conn-Selmer, the Hygenic Mouthpiece Cleaner & Case Freshener cleans and freshens up your instrument's mouthpiece and transport case with just two quick spritzes of this stuff. Keep it in your case and take it with you. It's also great for when the player has a cold (and doesn't want to get their germs back!).
14
Manufacturer Part #:
  1800B