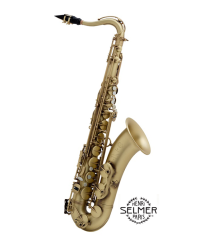 Selmer 74 Professional Model "Reference 54" Bb Tenor Saxophone
Features:
A tribute to the revered 1954 Mark VI. This gorgeously crafted instrument incorporates some of the finest acoustic and ergonomic characteristics of earlier Selmer Paris models. These features are combined with modern design and manufacturing enhancements. The centered tone is based on the legendary sonics of the 1954 Mark VI.
Technical Specs:
Acoustics: Reference body style-full sound
Necks: Reference bore
Construction: ribs
Body material: Lacquered brass finish with vintage patina
Mouthpiece: Super Session
Mechanism: compact key positioning, closer to the body and directly under the hand
Range: high F# key
Front F key: spatula
Left-hand thumb rest: plastic
Right-hand thumb rest: metal adjustable
Adjusting screws: high F, G# key, F#/G# lug, F#/G#, adjusting bar, low C#, low B, side C, side Bb
Pivot screws: tapered
Needle springs: blued steel
Pads: treated leather with metal resonators
Includes contoured flight case.
| | |
| --- | --- |
| Model: | 74 |
| Manufacturer: | Selmer |
Vintage Matte 13
Regular Price:
$11,357.00